Champion Retail Center specializes in all aspects of the Mobile Home & Park Model Home industry, delivering beautiful homes at Factory Direct pricing.
About This Location
This Champion Retail Center location is located in York, Nebraska and we deliver our finely crafted homes to Nebraska, Colorado, Kansas, South Dakota, North Dakota, Wyoming, Iowa, Minnesota, Missouri, Montana, Wisconsin, Illinois. Contact a housing consultant at 1-800-410-1932 for more information about our homes.
Fly & Buy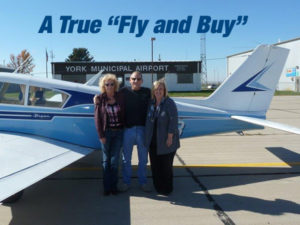 Ask about our special Fly & Buy travel reimbursement program, which makes it easy for both 'flying' and 'driving' visitors from all over to visit our sales center while minimizing the cost of travel.
In addition, we'll happily arrange and pay for accommodations at a nearby hotel.  One room, one night, no strings attached!  Call for details.
*This is a true Fly & Buy Customer. They flew into our small airport and purchased a home. Thank you for your business!
About Athens Park Model Homes


The unsurpassed quality of every Athens Park Model RV is possible thanks to the innovation we've developed in our manufacturing processes and our commitment to outstanding design. Each unit is created in an environmentally controlled, state-of-the-art facility by skilled craftsmen and using only the finest materials. This setting allows us to precisely direct an assembly system that achieves the strict efficiency and effectiveness standards that make our RVs as affordable as they are remarkable. It also provides us with the opportunity to maintain exacting quality control standards. Such innovation is especially vital when building green dwellings.